I just have to share that drone photos are amazing for Senior Community websites when you use a WordPress theme with sliders on the home page. Check out what we did for San Marino Retirement Community:
Website: SanMarinoRetirement.com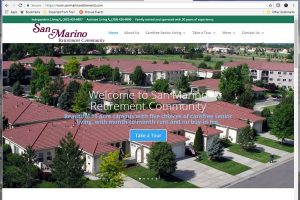 San Marino Retirement located in Westminster, Colorado also has the benefit of having amazing gardens throughout their property. Between the staff and owner they have stayed on top of taking photographs and even worked with one and other to critique their photos to get the best quality and views.
The next step of adding a lot of photographs to a website is to organize them in a way that makes sense. For San Marino Retirement Community we came up with having multiple "Take a Tour" web pages that highlight their different levels of care from patio homes, independent apartments, independent apartments with services, assisted living and memory care apartments.
Here is a link to their main entry web page for "Take a Tour" – CLICK HERE
Click around the different tours. One cannot help but admire the beautiful grounds.
Website: SanMarinoRetirement.com
---
"Drone Photos are Amazing for Senior Community Websites" is licensed under a Creative Commons Attribution-NoDerivs 3.0 United States License.
For permissions beyond the scope of this license contact WPSconsultants.com